Description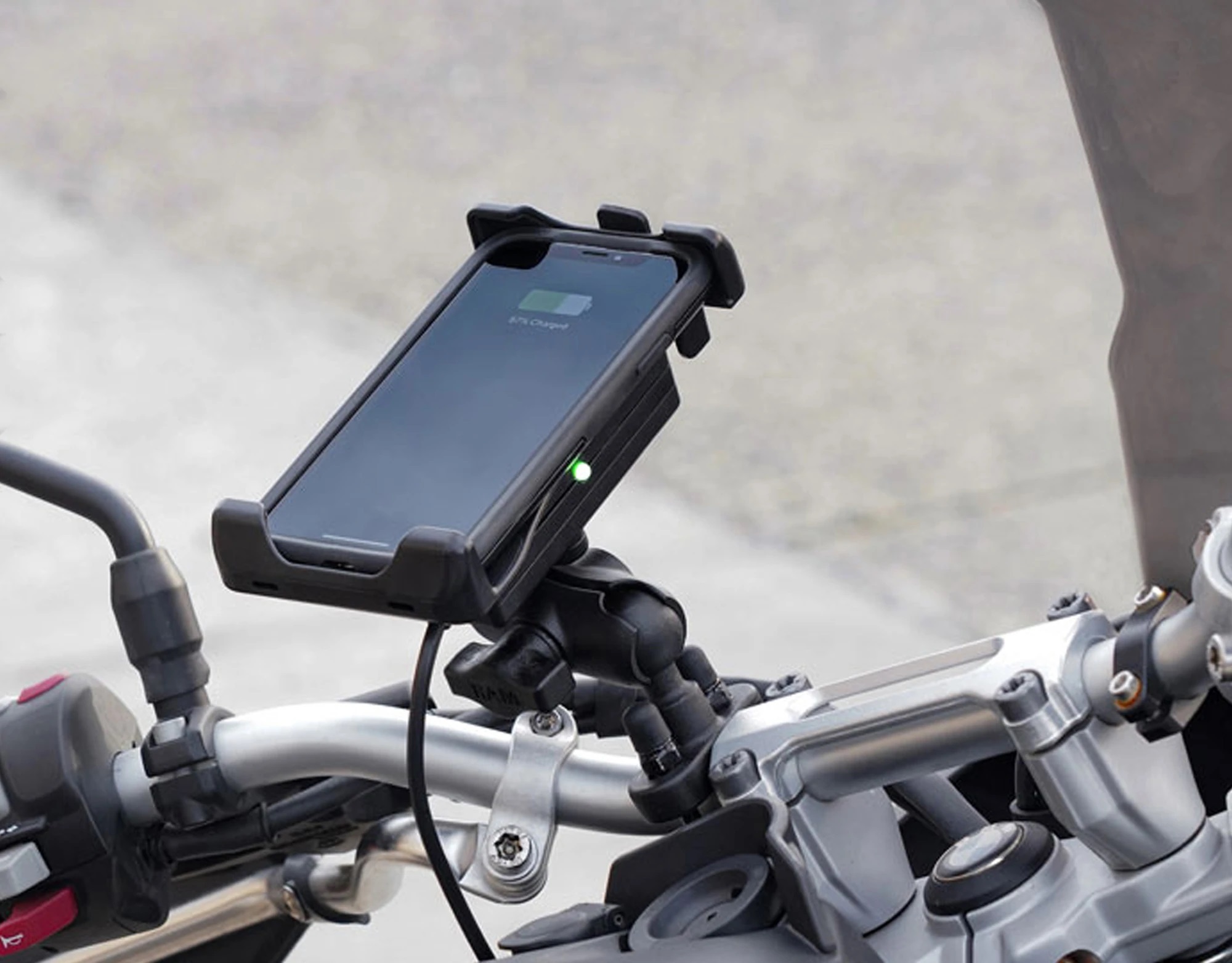 Why buy the DENALI version of this kit? Our kit includes everything in the RAM® kit but also includes a proprietary wiring and charging harness that enables plug-&-play connection to CANbus vehicles. Powering your charger through our CANsmart also unlocks proprietary features only available in the DENALI kit like an electronic auto-resetting fuse and a customizable delayed time off to keep power to your phone after you switch off your bike. 
You can find an inexpensive phone mount just about anywhere these days, and some even have wireless charging. Don't waste your time. This is the only 100% waterproof wireless charging system on the market that can withstand repeated exposure to extreme outdoor environments. The charging cradle is sized to fit your smartphone by itself, or with a waterproof case, and the built-in Qi wireless charger works through cases up to a 1/4 inch thick! An in-line waterproof switch lets you control when you charge and a convenient LED light changes from red to green giving you the confidence that your phone is locked in place and charging!
Compatible with most Apple, Samsung, Google, and other smartphone brands. Check the list of confirmed compatible devices below. 
Product Features
Qi wireless quick charging with LED indicator light
Spring-loaded Quick-Grip™ design allows for easy one
handed operation
In-line waterproof on/o switch only charges the phone
when you want to
Includes plug-&-play harness for connection to CANsmart™
Controller or direct to battery
Compatible with all RAM® B size double socket arms and
RAM® ball bases (sold separately)
Auto adjusts to the max charging output available for your
phone (5W, 7,5W or 10W)
Marine-grade aluminum, stainless steel, and high-strength
composite construction
Product Specs
Qi Wireless Quick Charging
Charging Outputs: 5W / 7.5W / 10W
USB 2.0 Type A Connector
Waterproof Housing & On/O Switch
Phone Height Range: 5.625" – 6.625"
Max Phone Width: 3.125"
Max Phone Depth: 0.70"
Max Case Thickness for Wireless Charging: 6mm (0.25″)
Weight Capacity: 2 lbs
FCC, IC, CE, e-Mark, WEEE, RCM, and RoHS Compliant
What's In The Box?
(1x) Genuine RAM® Quick-Grip™ Wireless Charger
(1x) Genuine RAM® Diamond Ball Base
(1x) DENALI® Wiring Harness for CANsmart™ Controller
(1x) DENALI® Battery Wiring Adapter
(1x) USB Extension Cable with waterproof boot
(1x) Safety Tether